This short documentary about Lola, a Haitian immigrant in Brooklyn, tells the story of immigration — its usual low-paying jobs — but in the case of immigrants from Haiti it means coping with racial and language prejudices while also  being associated with the much maligned and grossly misunderstood religion, vodou.  Given this discrimination, it's understandable that many Haitians claim they do not believe in or practice vodou.   Lola is proud of her religion.  She may clean houses during the day in Manhattan, but at night she returns to her role as healer and spiritual leader in her Brooklyn home.  This doc offers a glimpse of a voodou practioner and the rich cultural life of an immigrant family and community that remains largely a mystery to  other New Yorkers.
We travel by subway from Lola's  house-cleaning job in Manhattan back to her matrilineal family in Brooklyn where she transforms into a manbo, a vodou priestess.    We see her altars and witness her healing sessions with "clients" and practitioners.  They complain of job problems, heart-aches, difficulties with children.  Lola does a card reading and with another practitioner, a sacred bath.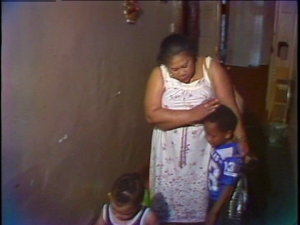 Lola lives with her daughter, Maggie, who works in a fast-food restaurant and is raising two children. Two of Lola's young sons also live with them.   Just as Lola received her spiritual training from her mother, Maggie is also a vodou initiate, a priestess in training and helps her mother prepare for ceremonies — birthday parties for the spirits in their Brooklyn basement.
"When I came to New York as a young woman, I didn't think I needed the spirits anymore ," Lola says.  "But I was wrong. The spirits have helped me a lot here."  Lola describes the difficulties of earning a living, struggling with English, making her way in the city.  "Yes, I needed those spirits to survive my life.   The spirits protect me.   That's why I serve the spirits."
Maggie and Lola describe the lies that are told about vodou, the religion which has sustained them.  "So many lies," repeats Maggie.  The spirits are familiar characters to their vodou family.  They have very human traits each one is usually symbolized by a Catholic saint in this syncretic religion.  Lola's altars embrace a wide range of symbols, Jesus on a cross beside a candle with a skull and cross bones, beside foods that the spirits like — popcorn and coffee.
We watch as  Lola and Maggie prepare for a ceremony or party for the spirits.  They decorate their house much like you would prepare for a birthday party.  The dining table is spread with cakes and cookies, grapes and watermelon, candles and objects that they believe the saint enjoys.  Streamers are strung across the ceiling.  Lola anoints the space with her asson — her sacred beaded rattle.   On her lineoleum floor she draws a veve — a symbol for the saint who is being celebrated and called upon here.  It's all a far cry from a hounfor or vodou temple in Haiti on a dirt floor with its sacred pole at the center around which veves are usually drawn and the ceremony with its dancing and possession take place.
In a final sequence of images we see Lola being possessed by various spirits.  Cousin Zaka – the saint of agriculture, Papa Ghede – who protects children and the sick and hangs out in the cemetery, or Ogoun, the most powerful of all.  The spirits dispense advice through Lola who they are "riding."  Part devotion and faith, part healing and guidance, part theater and entertainment, it's all integrated at this party.   A chicken will be sacrificed and cooked and everyone will share in the food.  Yes, a good party.
Breaking News
In 1991, Karen Brown, a distinguished scholar of the sociology of religion and particularly vodou published her path-breaking book about Lola Champagne called: Mama Lola, a Vodou Priestess in Brooklyn. It was path-breaking because Karen crossed the boundary of "insider/outsider" anthropology, by revealing her own relationship to Lola. Karen referred to it as an "ethnographic, spiritual biography." That book continues to be required reading across many disciplines: women's studies, comparative religion, African religion, Haitian studies, Caribbean studies, and anthropology. In 2011 the third edition (by University of California Press) includes a masterful preface by Caribbean scholar, Claudine Michel.

Largely through the success of the book, Lola has been invited to speak from California to Benin. She was also hired as a consultant to work on the UCLA Fowler Art Museum "Sacred Arts of Haiti" show in 1999 which traveled to the Museum of Natural History in New York. Lola consecrated the altars for both venues. Her own practice has broadened as she has been invited to the west coast, Montreal, Miami and New Orleans regularly to initiate new practitioners to the religion and often takes initiates to Haiti for ceremonies there. Maggie continues to assist her mother while working as a health aide. Maggie's daughter, Marcia, continues with the spiritual life of her mother, grand-mother and great-grandmother.
Books