Larry Bannock was 36 when I produced this story for MacNeil-Lehrer Newshour in 1984.  Chief of The Golden Starhunters, he is part of a rich New Orleans tradition — the Mardi Gras Indians. Steeped in history, these "Indian tribes" create fabulous costumes from beads, feathers, rhinestones and sequins using Indian motifs and organize their tribes into competing groups of musicians  for a black Mardi Gras that few whites ever saw.  Some of the tribes – the Wild Tchoupitoulas, the Yellow Pocahontas and the Wild Magnolias – have become famous nationally.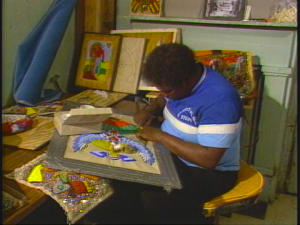 "Massin' Indian is like a feeling that you have that you can't explain.  It's a desire.  An outsider wouldn't understand it.  You want to do something that remembers the Indians," says Bannock.
"Massin' Indian" means masquerading as Indians and the tradition dates back to slavery when local Indian tribes were the only friends of enslaved blacks.  Scholars argue over all the influences on the tradition while chiefs like Bannock continue to sew their stunning costumes each year.
"The only requirement of an Indian is that you gotta want to sew," Bannock explains who was laid off as a welder and earns a living at odd carpenter jobs.
"And you gotta feel it.  You don't create a lot of ideas that don't relate to the Indians.  You've got to have a desire to sew, a passion because you spend 3 or 4 hours a night for a year to sew your costume."  Bannock will spend from $2,000 to $3,000 each year (1984 figures) on the materials, beads, tools and threads for his costume.
Another part of the tradition is the weekly music practice sessions at a local bar.  Bannock's group, The Golden Starhunters, bring congas, snares and tamborines to work out their rhythms and songs.  "We form a percussion circle and sing songs about heros in our community, people who have passed, we're remembering them," says Bannock.
"This (tradition) is what keeps Mardi Gras going.  People in the neighborhoods, the grass roots, working together, sewing and doing what they feel."
Breaking News
Since I produced this piece in 1984, Larry Bannock has been featured in articles (New York Times 1996) and photo collections. In more recent years he is quoted on websites promoting New Orleans culture: "Downtown Indians use sequins and feathers and uptown Indians use beads, rhinestones and feathers (that made Bannock an Uptown Indian) and the only time they come together is to parade on St. Joseph's Day." Bannock has also been President of the New Orleans Mardi Gras Indian Council for several years. I searched the web to find out what had happened to Bannock during and after Katrina. On a website called "Speak Up" under a banner Endangered Culture: New Orlean's Mardi Gras Indians I discovered that Bannock's house "was still broken (2008) and he sometimes lives in his car, but he continues to be the Mardi Gras Indian chief of the 17th ward known as Gert Town." It seems that since Katrina the tradition has been especially strained as young people no longer want to devote the time and passion to the craft of creating the costumes. For a recent documentary celebrating the culture see Flags, Feathers and Lies.
Books